Escape Rooms

There's a good reason escape rooms have exploded in popularity over the past few years. The fully themed environments transport guests to another world. They must work together to solve the puzzles to complete the objective in order to "escape." Escape rooms deliver memorable experiences that customers can't get at home, and this kind of experience is exactly what you want to provide.
These attractions help you reach an entirely new demographic. As a family entertainment center (FEC) owner, you can attract a new segment of the young adult market that may not have visited your facility in the past. When these new guests come in for your escape room, they'll likely stick around afterward and spend money at your other profit centers: bowling, laser tag, restaurant, etc. Keep reading to learn how Infinite Escapes can help you capture this market.
Free Report: The 6 Most Important Questions to Ask When Researching Escape Rooms
Our Escape Rooms
Other options on the market exist on two ends of the spectrum: do-it-yourself (DIY) escape rooms and full franchises. DIY rooms typically have basic themes, second-hand furniture, and lots of padlocks for puzzles. There's nothing wrong with padlocks, as they have their place in certain rooms. But you have to give your guests more than just padlocks if you want them to come back . On the other hand, franchises require unnecessary franchise fees and royalties. This means you pay for the privilege of giving away a chunk of your revenue.
Neither of these models work well for family entertainment centers, which is where our rooms come into play. We deliver turnkey, fully themed escape room experiences. Your guests get a room that's better than a franchise, and you don't have to pay the extra fees. You keep all the money you make.
We offer two types of turnkey escape rooms for your facility
Traditional – Our traditional rooms provide amazing props and immersion. They are typically 60-minute, multi-room experiences that require about 350-500 square feet. They are longer experiences, require more hands-on attention from staff, and can allow you to charge a higher price per player.
Autonomous – We're pioneering autonomous escape rooms. These self-guided, auto-resetting rooms are shorter, 30-minute single-room experiences in about 150-250 square foot rooms: double your revenue-per-square-foot compared to traditional rooms.
Proprietary Clue System
We have developed a new escape room clue delivery system. Players use an electronic tablet to scan codes on different puzzles and props in the room to reveal hints and clues. The game masters and staff no longer have to manually provide the clues to players. This proprietary software provides a better, easier and quicker experience for both the staff and players. This system is available for both traditional and autonomous rooms.
Our Themed Storylines
Most operators install multiple themed story-lines in order to capture repeat play revenue from guests. Our team has developed several escape room themes, with more on the way.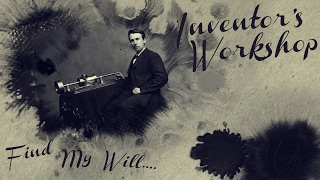 Inventor's Workshop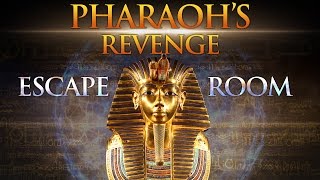 Pharaoh's Revenge Mayday Singularity Zombie Research Lab
Medieval
Cell Block E
Inventor's Workshop

Traditional Escape Room

Description
Richard Worthington, a renowned inventor, passed away last night. He was a brilliant man who dedicated his life to helping the people in his little corner of London. When his wife died 2 years ago, everything changed and he became distant and paranoid.

During this period of mental isolation, one thing remained constant: his respect for your team of detectives. In fact, he thought each of you were equal to his own intellect.

Near the end, he became consumed by the fear of dying. He didn't want his years of work and creations to fall into the wrongs hands. He thought all of you were very capable of continuing his own work. But in order to do so, you must find his will before the bank arrives to seize control.

They are on the way, so your time is limited. Worthington was a curious man with a wild imagination, so you'll find many peculiar items.

Please, don't let his amazing inventions get in the wrong hands.

Pharaoh's Revenge

Traditional Escape Room

Description
Welcome to the hot sands of the Egyptian desert. You're part of a large archeological dig team that's looking for lost artifacts near the Valley of the Kings. Your team has been using an old stone structure as a field office to run the operation, which started nearly 4 months ago. During that time, your team found nothing...until last night.

Just before dusk, a large stash of ancient artifacts was discovered. Instead of starting the morning by examining and cataloging the artifacts, you drew the short straw and had to make a routine supply run into town.

Upon your return, you realize something went terribly wrong. The other members who stayed behind at the dig site are lying outside of the field office, barely conscious and near death. Now it's up to you to figure out what caused this sickness and help the team before it's too late.

Your fellow archaeologists are barely holding on, so your time inside the field office is limited. They are all counting on you, so get to work.

Mayday

Autonomous Escape Room

Description
You and the other passengers are thrilled to embark on a submarine adventure to exotic locales around the world. During your private tour of the bridge, the jovial captain calls on the video monitor to welcome you. His joy quickly turns to frustration as one of the systems malfunctions.

His frustration then turns to fear as he realizes his first mate is locked outside the bridge, unable to initiate the safety sequence. Now it's up to you and your fellow passengers to close all the water-tight doors on the submarine.

If you fail, the vessel will take on freezing cold water and sink to the bottom of the ocean. The freezing water has already cut off communication with the captain, so you're on your own.

The clock is ticking. Work together and seal the doors before your vessel is claimed by the ocean.

Singularity

Autonomous Escape Room

Description
In the far reaches of space, there is so much that remains undiscovered. Your team is on a mission to explore the galaxy when you receive a distress signal from a research vessel.

Upon arrival, you discover the research vessel is empty. You find the video logs from Lieutenant Cruise, the commander of the vessel, but some important pieces of the story are missing. That's when Asteria, the artificial intelligence unit for the ship, intervenes.

Asteria needs your help to replace her power core because without it, the ship will not be able to support human life. But something isn't right. Where is the crew? Why was the distress signal sent out? Before you can get these answers, you must help Asteria replace the core in order to save your own life.

Zombie Research Lab

Autonomous Escape Room

Description
This isn't your typical zombie outbreak. The Zombyte virus is infecting mechanically enhanced humans to create a horde of robo-zombie creatures. Your team of scientists is trapped in a lab with a simple goal: find a cure.

All other research facilities are infected or unresponsive, so it's up to you. Isolate the virus, formulate the antivirus, access the global mainframe, and upload it to the grid. It seems simple enough, but an infected horde is closing in on your location, so the pressure is on!

Medieval

Traditional Escape Room

Description
To earn their place among the knights of legend, a seat at the round table, Galahad and his companions (You) embark on a quest in search of the source for immortality, the fabled Holy Grail.

Chalice seekers will be faced with many difficult challenges in their attempt to escape this castle with the coveted item in hand. Gaining access to the castle is trivial, getting out… not so much.

While the Holy Grail is an incredibly powerful item, the main entryway to this foreboding palace has powers of its own. If the cup passes through the front doorway, it will lose all of it's mystical qualities.

Therefore, it is imperative that Galahad and his companions not only locate the Grail's hiding place in the castle, but also find a new way out once it is in their possession.

Cell Block E

Traditional Escape Room

Description
In an attempt to avoid another mass escape from his prison, like that which occurred 20 years ago, the corrupt warden has given Cell Block E a major renovation. He believes he has outsmarted all of the prisoners by installing updated technology and a tear-gas bomb into the maximum-security wing.

But, little does he know, one of his own guards aided in the escape all those years ago, and they are ready to help again.

Can you find all of their clues and escape the evil warden's grasp before time runs out?
The Customer Experience Matters: Learn How to Maximize the Escape Room Experience
Why Us?
Why should you choose us? Anyone can buy furniture pieces and throw padlocks on drawers and compartments. If you want to go this simplistic do-it-yourself route, our turnkey escape rooms are probably not the choice for you. If you want to raise the bar for escape rooms and give your guests more than just padlocks, let's talk! Every Infinite Escapes attraction is fully themed with custom props and decor that are fabricated in-house and can't be replicated by your competitors.

For the last two years, we've been honored to be recognized as an Inc. 5000 fastest growing company. We're proud of this distinction, which represents our commitment to thorough customer satisfaction and attention to detail in everything we do. Let us use our experience and knowledge to help you reach your goals.
Samples Of Our Work
Frequently Asked Questions
How much space do I need for an escape room? Our escape rooms are flexible enough to fit just about any size or shape space. You need 300-500 square feet for a single room experience, but with larger spaces we can install multiple rooms or even entire facilities.
What themes are available? Even though this is a new attraction, we already have multiple themes available, and more coming soon. Plus we can do custom theming for a truly unique experience.
How much does an escape room cost? This is impossible to answer without knowing more. Every project is unique, so the cost will depend on the size of the space, height of the ceiling, amount of theme work, number of puzzles, and a number of other factors. Request a quote so we can learn more about your project and we can put together a proposal that fits your needs and budget.